Overcast Software was founded in 2013. We specialize in custom solutions for the web and develop custom cloud software, complex integrations, data visualizations, web front-ends, back-ends and everything in between.
In addition to software development services, we have access to highly qualified graphic designers which can be contracted on a per-project basis.
We provide consultation to our clients, making sure that they choose the best possible solution available that fits their needs.
Feel free to contact us for a discussion about your project or a quote, free of charge.
Founder and developer
Arnar Tumi Þorsteinsson
As an engineer and programmer he's powered some of the largest engineering firms in Iceland as well as worked as a CTO for startup companies. A full-stack programmer with extensive knowledge in Ruby and Python. M.Sc. EE from DTU and a B.Sc. EE from University of Iceland. 
Founder and developer
Sævar Öfjörð Magnússon
Some of the largest and coolest firms in Iceland and abroad have enjoyed his skills as a full-stack Ruby and Python developer and systems administrator. M.Sc. EE from DTU and a B.Sc. EE from University of Iceland. 
Founder and CEO
Kjartan Sverrisson
Extensive experience in large scale web projects from leading firms in Iceland. Past experience include airlines, media corporations, IT corporations and startups.  A full-stack Python programmer with passion for web development with an M.Sc. IT from the University of Liverpool. 
Owner and developer
Einar Jónsson
Since the time of loud modems and bulky monitors programming and creating websites has been his passion and has since pulled out of his bag of many things everything ranging from small websites to  raw socket libraries for hardware. A true Jack of many trades and even amaster of some. Einar holds a M.Sc. in CSE from DTU.
Developer
Sveinn Orri Bragason
As a former member of the national judo team with a degree in psychology, Orri has the tools required to wrestle tough code as well as calmly deal with incoming support requests. He will either talk him self through his own problem solving or talk his clients out of a tough spot using his dual B.Sc in CS and B.Sc in Psychology as his weapons of choice.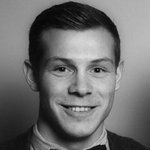 Developer
Eiríkur Ingi Magnússon
Holding a dual B.Sc in Electrical Engineering and Computer Science, Eirikur has somehow developed a big passion for Javascript as he has created everything from computer games to programming languages with it. There is an old saying that some of the best lines of code Eirikur has ever produced were written somewhere where there was no light and no oxygen available. As that is his circumstances of choice.
Ármúli 42, 108 Reykjavík, Iceland